Performing arts are an essential part of a well-rounded education.
They provide pupils with the opportunity to develop their creativity, self-expression, and communication skills. They also help pupils to build confidence, overcome challenges, and work collaboratively with others.
Explore the Performing Arts at The Aquila School
At The Aquila School, we offer a wide range of performing arts programs, including music, drama, and dance. Our programs are designed to meet the needs of all pupils, regardless of their skill level or experience.
Music

Music is a universal language that can be enjoyed by people of all ages and backgrounds. Our music curriculum offers pupils the opportunity to learn to play an instrument, sing, and compose music. We also offer a variety of ensembles, such as the school band and choirs.

We also work with DASH music academy to provide peripetetic lessons for those children who want individual or group instumental or singing lessons.

Drama

Drama is a powerful tool that can help pupils to explore their emotions, develop empathy, and communicate effectively. Our drama curriculum offers pupils the opportunity to learn about acting, directing, and stagecraft. We also produce a number of plays and musicals throughout the year, such as The Golden Ticket, Annie, High School Musical and We Will Rock You. Our staff are also known to perform a winter pantomine! ...oh yes they are!
Each year, all of our pupils also participate in 'Drama Workshop Week'. All pupils have a key role to play in the end of week performance.

Dance

Dance is a beautiful and expressive art form that can help pupils to develop their physical fitness, coordination, and creativity. Our dance program offers pupils the opportunity to learn a variety of dance styles inclluding jazz, and modern dance. We also participate in the BSME's Desert Dance.
We are confident that your child will thrive in our supportive and creative environment.
FS1 to FS2: 1 x 40min Music
Years 1 to 4: 1 x 40min Music
Years 5 to 6: 1 x 40min Performing Arts (Drama & Dance)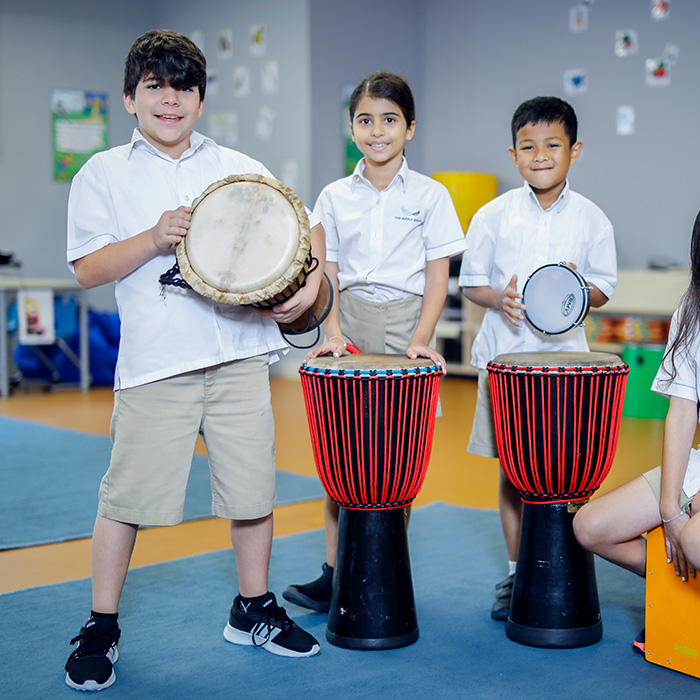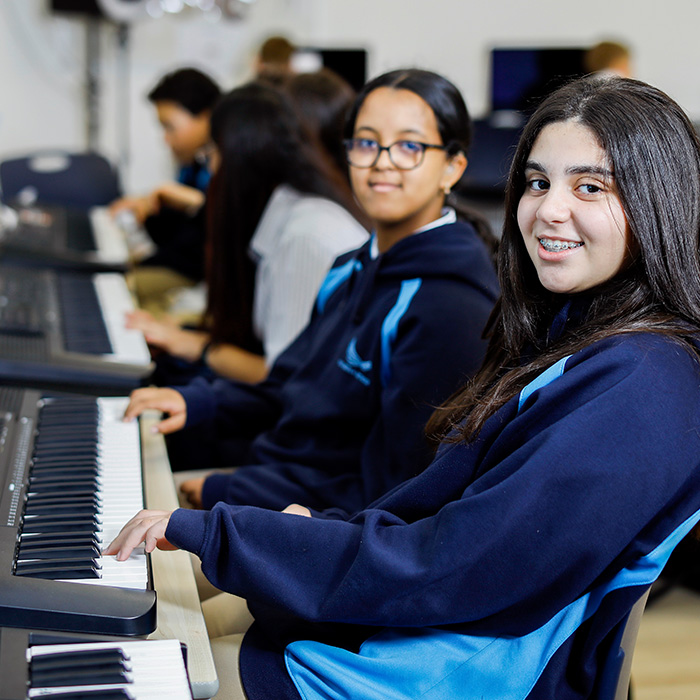 Years 7 to 9:

1 x 50min Drama
1 x 50min Dance

Years 10 to 11:

3 x 50min per option
We offer GCSE Drama & BTEC Level 2 Dance

Years 12 to 13: Options

3/5 x 50min IBDP SL/HL Dance
3/5 x 50min IBDP SL/HL Theatre
10 x 50min IBCP/BTEC Level 3 Acting
10 x 50min IBCP/BTEC Level 3 Dance
Years 7 to 9:

1 x 50min Drama
1 x 50min Dance

Years 10 to 11:

3 x 50min per option
We offer GCSE Drama & BTEC Level 2 Dance

Years 12 to 13: Options

3/5 x 50min IBDP SL/HL Dance
3/5 x 50min IBDP SL/HL Theatre
10 x 50min IBCP/BTEC Level 3 Acting
10 x 50min IBCP/BTEC Level 3 Dance